Toyota Revo
Starting from PKR. 12,424,000 /-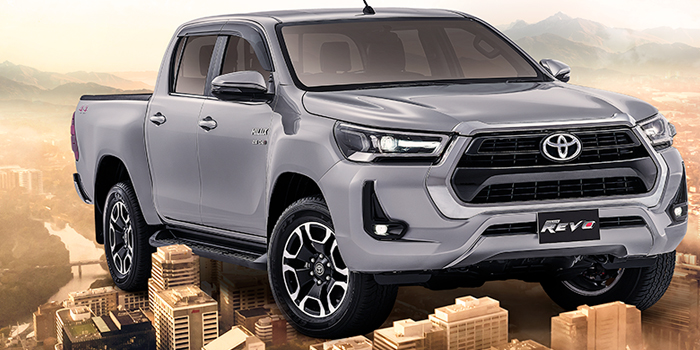 PRICE
Toyota Hilux Revo
4x4 G M/T
PKR

12,424,000

Ex-Showroom Price (Karachi)
Toyota Hilux Revo
4x4 G A/T
PKR

13,034,000

Ex-Showroom Price (Karachi)
Toyota Hilux Revo
4x4 V A/T
PKR

14,404,000

Ex-Showroom Price (Karachi)
Variants Comparision

Ex-Showroom Karachi Prices inclusive of 17% Sales Tax.
* The above prices are provisional and are subject to change without any prior notice, price prevailing at the time of delivery will be final.
*Vehicle with delivery time above 30 Days can be book on Partial payment of Rs. 500,000/- (Terms & Conditions Apply)
Safety
SRS Air Bags All-Round Protection
Upon collision, the 6 SRS airbags deploy in milliseconds to minimise impact. *Please refer to Owner's Manual for details
Vehicle Stability Control
Keep On Track The system integrates Electric Power Steering (EPS) with the braking and driving force controls of VSC, ABS and TRC (Traction Control), for excellent control and driving stability.
Anti-Theft System
Immobilizer prevents engine from running unless correct key is present, while a built-in security alarm triggers the horn in case of unauthorized entry.
Reverse Camera
Heighten Awareness A moving grid-line camera integrated into the rear of the vehicle helps ensure smooth reversing when parking at a 90-degree angle or when parallel parking.
Crash Safety Body
Unrivalled Protection The high integrity cabin with front and rear crumple zones help absorb impact in the event of a collision. The safety body structure also helps reduce injury to pedestrians.
Front & Rear Disc Brakes
Reliable Stopping Power Front and rear disc brakes provide reliable stopping power.
---