Corolla Cross
Starting from PKR. 12,268,000 /-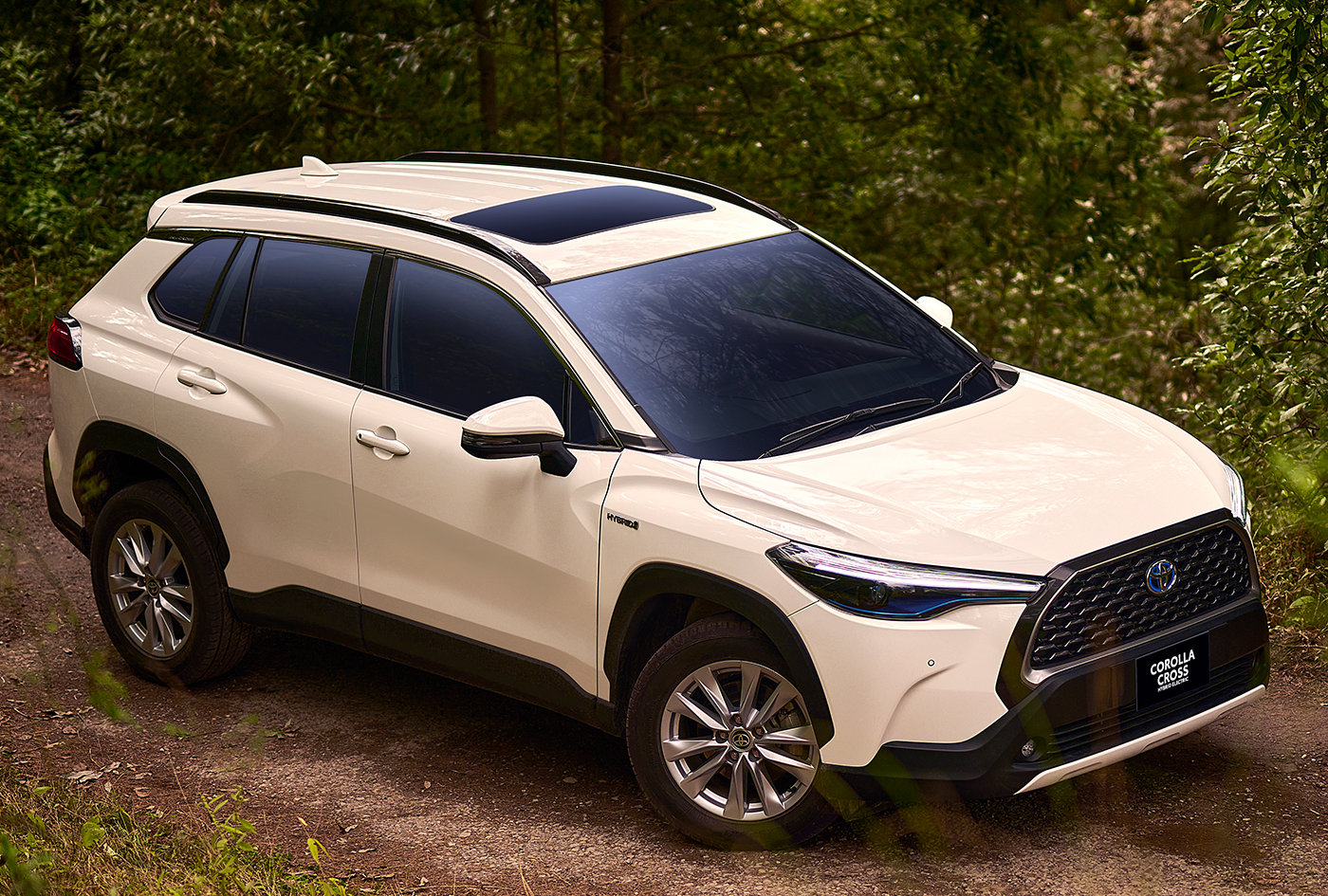 PRICE
Variants Comparision

Ex-Showroom Karachi Prices inclusive of 17% Sales Tax.
* The above prices are provisional and are subject to change without any prior notice, price prevailing at the time of delivery will be final.
*Vehicle with delivery time above 30 Days can be book on Partial payment of Rs. 500,000/- (Terms & Conditions Apply)
Performance & Safety
4th Gen Hybrid Engine
Exclusively designed for hybrid systems, the 1.8-liter 2ZR-FXE Engine. engine with Dual VVT-i and Atkinson Cycle provides exceptional fuel economy in a compact, lightweight design.
Excellent Fuel Efficiency
Efficient EV motors combined with the NiMH battery's excellent charging performance allows the hybrid system to stop the engine earlier and more often in the driving cycle when it's not needed, such as in low-power-demand city driving conditions.
Advanced Driving Modes
ECO: Helps improve fuel economy. Both the vehicle driving force and operation of the air conditioning system are controlled to improve fuel efficiency.
PWR: Increases hybrid system acceleration response. Suitable for when agile driving response is desired, such as when driving on roads with many curves.
EV: In EV drive mode, the electric motor, powered by the hybrid battery, is used to drive the vehicle. This mode allows you to drive without concern for exhaust emissions. Possible driving distance is up to about several hundred meters at low speed. This distance depends on the hybrid battery level and driving conditions.
---
Clearance Sonar
Bumper-mounted ultrasonic sensors detect obstacles at the corners, front or rear of the vehicle. Each sensor consists of a microphone and a circuit that transmits and receives ultrasonic waves.
The system detects the distance between the vehicle and the obstacle, and then informs the driver of the obstacle's position using lines on the multi-information display. An additional notice is given by sounding a buzzer that increases in frequency as the obstacle gets closer.
Hill-start Assist Control (HAC)
HAC helps keep the vehicle from rolling backwards when the driver pulls away on a hill. The system will hold the vehicle in place while the driver moves their foot from the brake to the accelerator.
Vehicle Stability Control (VSC)
VSC helps the vehicle follow the driver's intended path by preventing the front or rear wheels from losing traction, causing the vehicle to skid sideways, such as when going around a corner too quickly.
SRS Airbags
Corolla Cross is equipped with 7 Airbags making it one of the safest compact SUV.
Airbags are installed in various locations of the vehicle to help the occupants in different types of accidents. The Corolla Cross is available with front airbags, a driver knee airbag, front side airbags and side curtain airbags.
---