Land Cruiser
Starting from PKR. 156,861,000 /-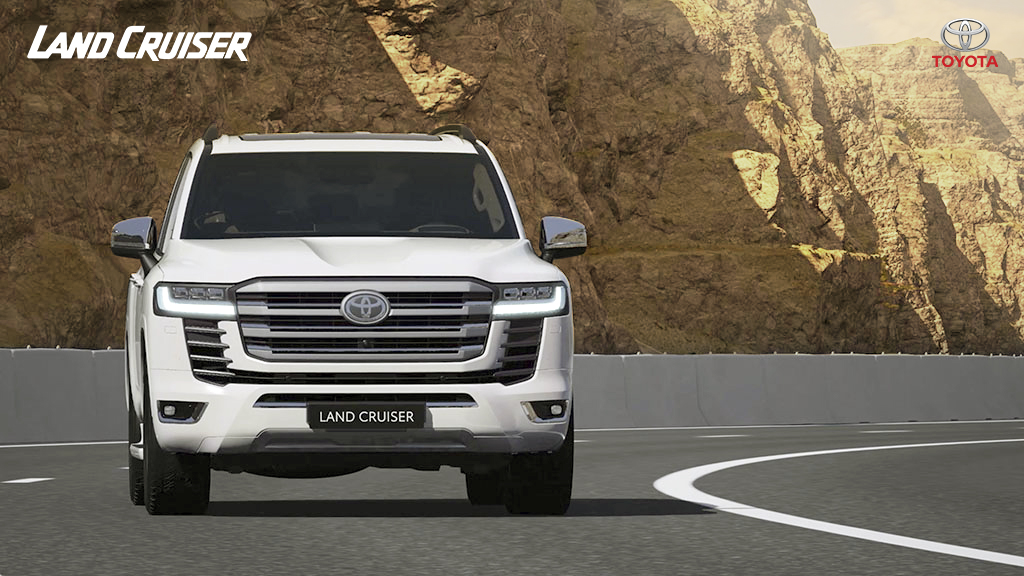 PRICE
Land Cruiser
LC GX MT 4.5L - VDJ200R (DIESEL)
PKR

N/A

Ex-Showroom Price (Karachi)
Land Cruiser
LC VX AT 4.5L - VDJ200R (DIESEL)
PKR

N/A

Ex-Showroom Price (Karachi)
Land Cruiser
LC VX R A/T (DIESEL) (NEW VARIANT)
PKR

N/A

Ex-Showroom Price (Karachi)
Land Cruiser
LC VX AT 4.6L - URJ202R (PETROL)
PKR

N/A

Ex-Showroom Price (Karachi)
Land Cruiser
STATION WAGON 300-ZX AT (GASOLINE)
PKR

156,863,000

Ex-Showroom Price (Karachi)
Land Cruiser
LAND CRUISER STATION WAGON 200-VX AT (GASOLINE)
PKR

39,915,000

Ex-Showroom Price (Karachi)
Variants Comparision

Ex-Showroom Karachi Prices inclusive of 17% Sales Tax.
* The above prices are provisional and are subject to change without any prior notice, price prevailing at the time of delivery will be final.
*Vehicle with delivery time above 30 Days can be book on Partial payment of Rs. 500,000/- (Terms & Conditions Apply)
Performance & Safety
All Terrain Performance
The Conqueror of Terrains & Temperatures, Inviting Countless Stares. A symbol of innovation, quality and capability, the advanced styling of the New Land Cruiser reflects the very essence of power and elegance. With its rugged sophistication, the new and improved exteriors are designed to leave your eyes wide open.
MULTI TERRAIN
By choosing one of the five drive modes at the touch of a dial, this revolutionary system provides the optimum traction you need to handle a wide range of road surfaces. In addition, when Crawl Control is active, AUTO mode is automatically selected and Active Traction Control (A-TRAC) matched to the pre-set vehicle speed is activated to help drivers of all levels to enjoy secure, sure-footed control when traveling over rough terrain.
CRAWL CONTROL
Crawl Control helps provide optimal throttle and brake control, maintaining a constant low speed to support safe, sure driving on sand, dirt, rock, snow, mud, steep grades or other surfaces that require fine accelerator control. Five speeds are offered, with fully automatic throttle and brake control that helps you to concentrate on steering the vehicle. The Turn Assist function helps the driver smoothly execute turns that would otherwise require multiple steering adjustments by helping to ensure steering response when traveling at a fixed speed.
Hill-start Assist Control & Down Hill Assist Control
Hill-start Assist Control contributes to smooth hill starts by automatically applying brake pressure to help hold the vehicle whenever rollback is detected. Down Hill Assist Control improves vehicle stability when driving down steep hills by maintaining a slow, constant speed and keeping the wheels from slipping.
SRS Airbags
Best-in-class collision protection for cabin occupants, thanks to Supplemental Restraint System, dual-stage driver airbag/front passenger airbag, along with available knee airbags for the driver and front-seat passenger, with side and curtain-shield airbags for 1st- and 2nd-row outer-seat occupants.
---